Fellow Spotlight: Annie Narla, MD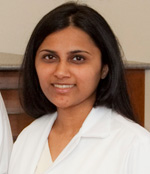 Dr. Annie Narla was born in India, lived in England for 10 years, then moved with her family to Illinois. She majored in neurobiology at Cornell University in Ithaca, NY, and earned her medical degree from Johns Hopkins School of Medicine in Baltimore, where she also completed her residency. She has worked as a research assistant in a number of laboratories, studying topics ranging from the molecular mechanisms of cancer to simulated prosthetic vision to preventive cardiology.
Dr. Narla was attracted by medicine's intellectual challenges, the opportunity to do service work, and the ability to conduct research, teach and practice in a wide range of areas. She was especially drawn to cardiology in medical school. "There is so much fascinating pathophysiology in cardiology," she said. "Also, within cardiology, there is such a broad range of exciting subspecialties – electrophysiology, imaging, interventional cardiology, and many more."
She chose UCSF for her fellowship because of its "phenomenal" cardiology training program, as well as the opportunity to live in San Francisco. "Already, I have learned so much, even more than I expected," said Dr. Narla. "The faculty are great teachers, and are very supportive and enthusiastic." She looks forward to the various rotations during her fellowship to help her decide which area within cardiology she would like to focus on, but knows she is interested in conducting clinical research.
In her free time, Dr. Narla enjoys exploring San Francisco and painting watercolor landscapes and portraits.