Fellow Spotlight: Jane Lee, MD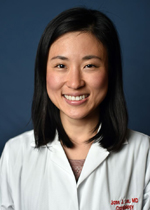 Dr. Jane Lee was born in Seoul, South Korea, growing up there and in a suburb of Atlanta, Ga. She earned her bachelor's degree in biomedical and electrical engineering from Duke University in Durham, N.C. She enjoyed thinking about problems in terms of systems and equations, but ultimately chose a career in medicine so she could apply those skills more directly to patients. She completed her medical degree from Case Western Reserve University in Cleveland, Ohio, and her internal medicine residency at University of Pittsburgh Medical Center.
Dr. Lee found her engineering background especially well-suited to cardiology. "The heart is the pump, and the blood vessels are like channels," she said. "I like thinking about the variables that change the way blood flows through our body." She came to UCSF for her fellowship in part because the third year allows trainees to pursue research full-time, and hopes to conduct outcomes research on heart failure patients who receive ventricular assist devices (VADs).
She has also appreciated navigating clinical situations with a high level of autonomy. "It's very gratifying when I can conceptually think through a problem and solve it," said Dr. Lee.
She is currently interested in specializing in heart failure and transplant cardiology. "Heart failure is really the endgame for any heart disease, and you also get to see the entire spectrum of disease," said Dr. Lee.
She is an avid runner, commutes by bicycle to all three hospitals, and enjoys longer bike rides outside San Francisco.