Fellow Spotlight: Ahmed Kheiwa, MD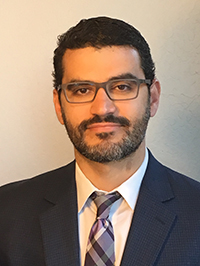 Dr. Ahmed Kheiwa is an advanced Adult Congenital Heart Disease Fellow at the University of California San Francisco. He joined the ACHD program at UCSF in July 2016 for a two-years training.
Dr. Kheiwa completed his medical school at the University of Mansoura Medical School, Egypt, followed by a one-year internship at Mansoura University Hospitals. In 2009, he moved to the United States to join the internal medicine-pediatrics residency program at Wayne State University. His interest in the pathophysiology and hemodynamics of congenital heart diseases was further pursued by completing a three-years pediatric cardiology fellowship at Children's Hospital of Michigan. In 2016, he was board certified in pediatric cardiology by the American Board of Pediatrics.
Dr. Kheiwa then decided to witness the adult perspective of congenital heart diseases and was fascinated by their hemodynamic complexity. He planned to further specialize in Adult Congenital Heart Disease by completing a formal training in the field.
"UCSF has one of the top, most prestigious adult congenital heart disease programs in the country," Dr. Kheiwa says, adding that he values the excellent training, fascinating patient population and chance to work with mentors such as Dr. Ian Harris, director of the Adult Congenital Heart Disease Program at UCSF Medical Center. When finished, Dr. Kheiwa hopes to practice in an academic setting where he can continue his clinical and research interest.
His life outside the hospital is almost as busy as that inside, as he is married and the father of two boys with whom he loves to travel about the city and play multiple sports.