Fellow Spotlight: Gregory Judson, MD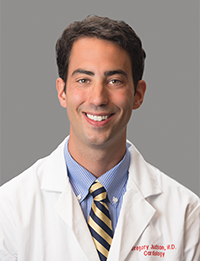 Dr. Gregory Judson grew up in Connecticut and earned his bachelor's degree in molecular biology and biochemistry from Middlebury College in Middlebury, Vt. He conducted prostate cancer research at the Harvard T.H. Chan School of Public Health in Boston, earned his medical degree from Columbia University in New York, then completed internal medicine residency and chief residency at UCSF.
The cardiologists he met seemed like consummate physicians. "Cardiologists care for patients whenever and wherever they need help, whether they're in the clinic, the cath lab or the ICU," said Dr. Judson. He decided to remain at UCSF for his cardiology fellowship partly for the breadth of experience he would gain by caring for patients at three hospitals: Moffitt-Long Hospital on the Parnassus campus, Zuckerberg San Francisco General Hospital (ZSFG), and San Francisco Veterans Affairs Medical Center. "UCSF also was one of the few cardiology training programs in the country that combines clinical and research excellence," he said.
So far, Dr. Judson has enjoyed the collegial atmosphere, taking care of very sick patients at ZSFG, and the opportunity to share what he knows. "The best teachers have a deep understanding of the subject, and can teach it to all different types of learners," he said. "As a fellow, it's been really rewarding to be learning every day and get the chance to teach medical students, interns and residents."
Dr. Judson lives in San Francisco with his wife and daughter, and enjoys hiking, skiing and mountain biking.