Fellow Spotlight: Robert Hayward, MD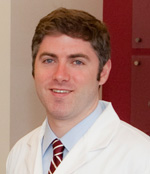 Dr. Robert Hayward was born in Texas and raised in Brunswick, ME. He studied chemistry and economics at Dartmouth College in Hanover, NH, then received his medical degree from Duke University in Durham, NC and completed his residency at Massachusetts General Hospital in Boston. He was drawn to the problem-solving aspect of medicine involved with understanding disease processes, as well as the opportunity to work with people.
He became particularly interested in cardiology because he liked the balance of caring for critically ill patients, as well as following patients with chronic diseases over the long haul. "I also liked that cardiology offers an opportunity to apply a mathematical, physics-based approach to problems," said Dr. Hayward. "In cardiology, we get to think a lot about the pressures and electrical system of the heart, applying a quantitative approach every day."
He came to UCSF for his fellowship because it has an "amazing" training program, with exposure to patients from many backgrounds and outstanding faculty. He was also attracted to the wide range of research opportunities, as well as the chance to live in San Francisco. At this point, he is particularly interested in pursuing electrophysiology as a subspecialty, and in conducting clinical research related to that area.
Dr. Hayward grew up fly fishing the rivers of Maine, and is excited to test Northern California's waters.