Fellow Spotlight: Philip Hall, MD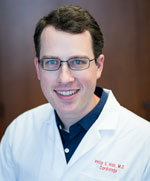 Dr. Philip Hall was born and raised in Cincinnati. While earning a bachelor's degree in classics at Princeton University, he also took pre-med classes, then earned his medical degree from Yale University and completed his residency and chief residency at Stanford Hospital. His interest in the heart began in high school while shadowing some inspiring cardiologists, and in medical school he found himself drawn to cardiovascular physiology.
So far in his fellowship, he has had the opportunity to care for patients at the San Francisco Veterans Affairs Medical Center. "As a resident, I had taken care of many patients who came in with heart attacks, but in my first few weeks as a fellow, I got to teach residents how to take care of patients in that setting, and also participate in the catheterization of that patient – to see the lesion that caused the heart attack and fix it," said Dr. Hall. "That was really rewarding."
He has a longstanding interest in teaching, and looks forward to a career in academic medicine where he can share his enthusiasm and knowledge with trainees and patients. "Trying to engage the listener and adapt your teaching to your audience is important," said Dr. Hall. He has particularly enjoyed caring for patients with advanced heart failure, but also looks forward to the breadth of the fellowship's rotations, as well as conducting clinical research.
Dr. Hall is married to Dr. Leah McNally, a first-year gynecological oncology fellow at UCSF. They enjoy spending time outdoors together and taking trips to Napa, Monterey and Yosemite.