Fellow Spotlight: Kelly Guld, MD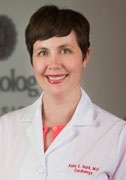 Born and raised near Atlantic City, NJ, Dr. Kelly Guld (pronounced "Goold") knew in middle school that she wanted to become a doctor – inspired in part by her mother, a labor and delivery nurse.
Dr. Guld earned a bachelor's degree in English literature and creative writing from Dartmouth College in Hanover, NH. She conducted clinical research in hepatitis C, and then attended Boston University School of Medicine, earning a master's in medical science and a medical degree. She completed her residency at the Hospital of the University of Pennsylvania in Philadelphia, where she also served as a hospitalist on the solid oncology service, focusing on palliative care.
Dr. Guld "fell in love" with cardiac physiology as an intern, fascinated by how even critically ill patients could often be successfully treated. At UCSF, she appreciates the fast-paced yet supportive environment, and the broad exposure to patients in three different hospital settings. "I feel like I'm turning into a cardiologist," she said.
Dr. Guld was attracted to UCSF in part because of its outstanding palliative care program, and hopes to conduct medical ethics research and training around palliative care and end-of-life issues for heart failure patients who have exhausted therapeutic options. "It's important to understand when it's time to focus more on quality of life and comfort, rather than very aggressive therapies," she said.
In 2013, Dr. Guld married her wife, Jaclyn Madril, a manager at Whole Foods. Together they enjoy preparing vegetarian feasts, traveling and exploring the Bay Area.