Fellow Spotlight: Joyce Njoroge, MD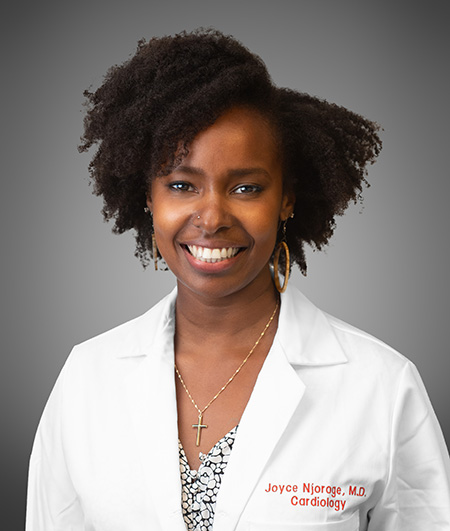 Growing up in Union, N.J., Joyce Njoroge, MD's interest in cardiology emerged after the unfortunate loss of two high school classmates due to hypertrophic cardiomyopathy (HCM), an inherited form of heart disease which can cause life-threatening abnormal heart rhythms. "At that time, baseline screening of athletes was not robust," she said. "Kids were chastised for being couch potatoes, but these boys passed away while playing basketball."
Dr. Njoroge earned a bachelor's degree in biology and genetics at Dartmouth College in Hanover, N.H., and her medical degree from Case Western Reserve University School of Medicine in Cleveland before completing her internal medicine residency at McGaw Medical Center of Northwestern University in Chicago. She conducted research in cardio-oncology – the effects of chemotherapy on the heart – as well as heart diseases that can affect younger people, such as alcohol-induced cardiomyopathy. "Trying to improve disparities drives a lot of my passion," she said.
She chose UCSF for fellowship because the faculty and trainees were so open and approachable, and is enjoying her experience so far. "On our rotations there's a very steep learning curve, but we have gained so many new skills," said Dr. Njoroge.
Dr. Njoroge wants to use proteomic evaluation to better understand the pathophysiology of inherited cardiomyopathies such as HCM and peripartum cardiomyopathy, and to develop therapeutic targets. Besides medicine, she enjoys kickboxing and listening to R&B.