Fellow Spotlight: Emily Cedarbaum, MD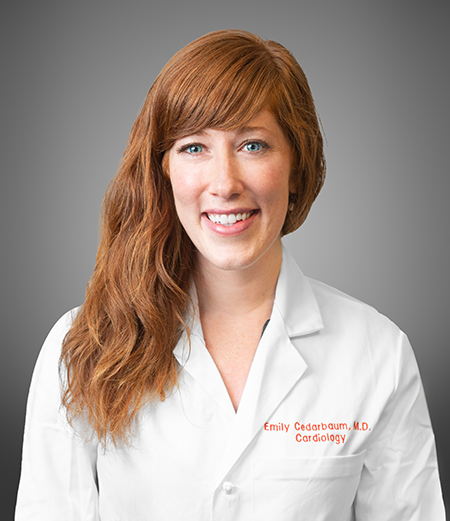 Emily Cedarbaum, MD, MPH, hails from Olympia, Wash. At the University of Washington, she earned bachelor's degrees in neurobiology and biochemistry, her master's of public health degree, and medical degree. Her research experience includes studying how HIV and Hepatitis C may impact women's cardiovascular health. "I'm interested in bridging my interests in cardiology and physiology to impact public health," she said.
She chose UCSF for internal medicine residency because of the opportunity to work at three hospitals – Moffitt/Long on the Parnassus campus, the San Francisco Veterans Affairs Medical Center, and Zuckerberg San Francisco General Hospital. "It gives you a really good spread of three different systems and patient populations, and helps make you a well-rounded doctor," said Dr. Cedarbaum.
She then spent a year as an attending physician on the UCSF Advanced Heart Failure Service caring for critically ill patients, including those who received mechanical support devices and transplants. "I learned a lot – there is so much physiology, and we got to know the patients well," said Dr. Cedarbaum.
She greatly enjoyed her first fellowship rotation in the cardiac catheterization lab. "It was really fun to see my progress and learn a new skill," said Dr. Cedarbaum, who may pursue a career in heart failure or general cardiology. Besides medicine, she loves hiking with fiancé and their dog, Jasper.