Fellow Spotlight: Eugene Fan, MD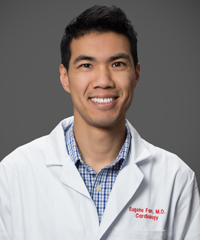 Dr. Eugene Fan grew up in San Diego, then earned a bachelor's degree in molecular biology from Princeton University and a medical degree from UCSF, where he also completed his internal medicine residency. After residency, he worked for a year as hospitalist on the UCSF Advanced Heart Failure Service.
Dr. Fan was originally interested in oncology, working in a cancer research lab as an undergraduate and coordinating breast cancer clinical research trials for UCSF breast cancer surgeon Dr. Laura Esserman. As a medical student, he became fascinated by cardiac physiology and the wide range of cardiac diseases. He found a way to bring these two interests together through his recent research with Dr. Atif Qasim, helping to study how echocardiography could detect early changes in cardiac function among cancer patients taking Herceptin.
So far in his cardiology fellowship, he has especially appreciated caring for critically ill patients in the intensive care unit. "It's what I came into cardiology to do – putting cardiac physiology into practice to make complex decisions," said Dr. Fan. "Seeing a very sick patient turn around with our therapies has been very rewarding." In addition to a passion for patient care, he also enjoys teaching medical students and residents.
Dr. Fan is considering further training in advanced heart failure and heart transplantation. His hobbies include playing classical and jazz piano, playing pool and running.