Fellow Spotlight: Simon Ermakov, MD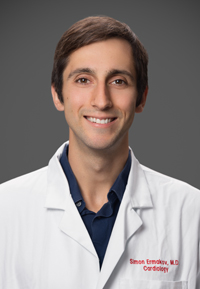 Born in Moscow, Russia, Dr. Simon Ermakov moved to the Bay Area when he was 7. His mother was a physician, and he also wanted to become a doctor. This interest intensified at age 14 when he was diagnosed with Wolff-Parkinson-White syndrome, a rare arrhythmia, or disorder of the heart's electrical system.
After graduating from UC Berkeley with a bachelor's degree in molecular and cell biology, he decided to undergo cardiac ablation for his arrhythmia, which was becoming more symptomatic. "I was cured of my illness and able to return to an active lifestyle," said Dr. Ermakov. "The experience was profoundly inspirational, and I knew this was the field to which I wanted to dedicate my life."
During medical school at UCSF, he conducted research in the lab of Dr. Melvin Scheinman, Walter H. Shorenstein Endowed Chair in Cardiology, who performed the first catheter ablation in humans. Dr. Ermakov helped discover more about arrhythmogenic right ventricular cardiomyopathy, a rare cardiac arrhythmia. "Dr. Scheinman is an incredible role model as a researcher, clinician and teacher," said Dr. Ermakov. During medical residency at Stanford, Dr. Ermakov also conducted clinical research on the relationship between atrial fibrillation – the most common arrhythmia – and obesity.
"It's really stimulating and gratifying to finally dedicate myself fully to this field," said Dr. Ermakov, who will likely pursue further training in cardiac electrophysiology. He is married to Elaine Ermakova, an account manager. He enjoys skiing, snowboarding and traveling.