Fellow Spotlight: Srikant Duggirala, MD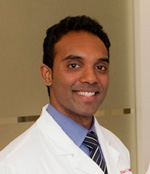 Dr. Srikant Duggirala grew up in Southern California and attended UC San Diego, where he earned his bachelor's degree in biochemistry and cell biology and a master's degree in biology. He received his medical degree from Tufts University School of Medicine in Boston, then completed his residency and chief residency at NYU School of Medicine in New York.
When he was a teenager, a distant cousin who was training to become a cardiologist stayed with his family for a few months, exposing him to the life of a doctor. Around the same time, one of Dr. Duggirala's best friends was diagnosed with leukemia, and Dr. Duggirala helped by coordinating bone marrow drives. Those experiences, plus his talent for the sciences, led him to a career in medicine.
He was drawn to UCSF for the caliber of the fellowship program. "The learning curve is steep, but every day I'm learning something new," he said. He is interested in pursuing a subspecialty such as electrophysiology, which would allow him to perform procedures and also understand and treat the underlying causes of disease. This dovetails with some of Dr. Duggirala's previous research experience, in which he analyzed mouse heart cells and also studied animal hearts that had received radiofrequency ablation to fix electrical abnormalities.
Dr. Duggirala greatly enjoys caring for patients. "Just being able to talk with patients, understand what they're going through and helping to make their lives better is a privilege," he said. "That's something I respect, and it means a lot to me." In his spare time, Dr. Duggirala enjoys photography, kickboxing and watching movies with friends.