Fellow Spotlight: Punag Divanji, MD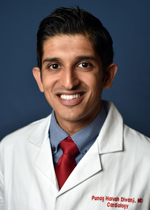 Dr. Punag Divanji was born in Montreal, Canada, and grew up near Houston, Texas. He earned his bachelor's degree from the University of Texas at Austin in Plan II, an interdisciplinary honors program, then completed his medical degree, internal medicine residency and chief residency from the University of Texas Southwestern Medical Center in Dallas.
Cardiology combines his interests in science, people, and the opportunity to tackle difficult problems. At UCSF, he has enjoyed working in a multidisciplinary team to care for critically ill patients. "I've seen people who are incredibly sick and require the care of a diverse group of physicians, nurses, and other providers. With the application of emerging technologies and techniques, we strive to offer patients the best possible care," said Dr. Divanji. "I try to work directly with patients and their families, so that we can come to important decisions together." 
 Dr. Divanji is specializing in interventional cardiology, because of the intellectual challenge posed by each individual patient, particularly when trying understanding the origin and trajectory of each patient's disease. Furthermore, with the advent of new technologies to treat valve disease, cardiogenic shock, and complex coronary artery disease, he believes that innovations will continue to drive the field forward. "This is an area where we have the opportunity to create new technology and look at empiric data," said Dr. Divanji, "the ability to collaborate with and learn from interventional cardiologists around the world is one of the most exciting aspects of the field." His research focuses on the risk of cardiovascular disease in women, an important area that needs further investigation. 
Dr. Divanji is married to Dr. Diana Divanji, an obstetrician in practice outside of San Francisco. Together they enjoy biking, hiking and learning to scuba dive.