Fellow Spotlight: Nalini Colaco, MD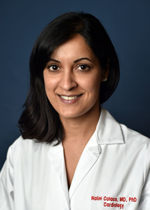 Dr. Nalini Colaco grew up in Santa Cruz, Calif. She completed her bachelor's degree in biology from the California Institute of Technology in Pasadena, her medical degree and a PhD in neurobiology and behavior from Columbia University in New York, and her internal medicine residency from New York Presbyterian Hospital, Columbia University Medical Center.
She became interested in cardiology because of the many different types of heart disease, as well as the broad range of therapies available to help patients feel better. At UCSF, she is enjoying learning the skills and tools necessary to diagnose and treat heart disease. "It's fascinating to look at different aspects of heart function, and learn how to interpret various studies and tools," said Dr. Colaco. She also appreciates the camaraderie which is developing among her co-fellows. "We have a really good group, and while we all have different personalities, we complement each other," she said.
Her doctoral research was on how connections formed between the brain and spinal cord contribute to development of a functional motor system. Dr. Colaco is now interested in learning more about cardiac development – how congenital heart defects occur, how some may present later in a patient's life, and the long-term effects of surgical repairs. She plans to incorporate both clinical care and research in her career.
Dr. Colaco enjoys playing tennis, rooting for the Giants, and spending time with her parents, sister, and nephew, Kaden, 2, and niece, Naya, 6 months.