Fellow Spotlight: Blake Charlton, MD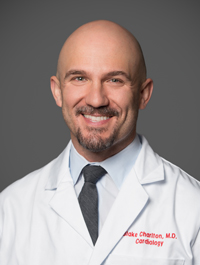 Dr. Blake Charlton grew up near Stanford University, where both his parents are psychiatrists. He earned his bachelor's degree in English from Yale University, then worked as an English teacher and special education tutor. He is also the author of three novels for young adults and is an advocate for the dyslexic community.
Inspired by his family's example of service, Dr. Charlton earned his medical degree from Stanford, where his mentors included novelist Dr. Abraham Verghese, who is also an expert on the physical exam. "Abraham fascinated me with the exam of the heart and cardiovascular disease; maybe more importantly, he introduced me to the idea of 'the romance of medicine,' which is a concept that continues to inspire me," said Dr. Charlton. "Cardiology also appealed to me because it's been at the forefront of using evidence to safely develop new treatments."
He chose UCSF for internal medicine residency and fellowship because of its commitment to public service. During residency, he worked with Dr. Rita Redberg, editor-in-chief of JAMA Internal Medicine, to create the JAMA IM Editorial Fellowship and has written extensively for that journal. Dr. Charlton's research focuses on the risks and benefits of newer blood thinners like Xarelto and Pradaxa. His fellowship highlights so far include caring for patients in the cardiac catheterization lab. "Being able to help someone in mortal danger is incredibly awe-inspiring," he said.
His future plans include pursuing twin careers in cardiology and writing. "I hope to figure out how to bolt together these two art forms," said Dr. Charlton. He is currently writing his next novel, this one written for adults and more medically focused.