Fellow Spotlight: Babak Nazer, MD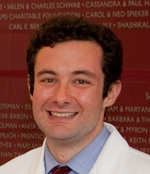 Dr. Babak Nazer was born in Iran, and moved to the U.S. at age 5, where he grew up in Seattle. He majored in biomedical engineering and psychology at Johns Hopkins University in Baltimore, where he became fascinated by the heart. "The physiology of the heart is so interesting, with the interplay of electric, mechanical and fluid dynamics systems – three completely different types of engineering coming in to play in one organ," said Dr. Nazer.
Although he considered becoming a bioengineer, he said he "fell in love" with the patient interaction side of medicine while an undergraduate volunteer at Johns Hopkins Children's Center, a pediatric hospital. He earned his medical degree at Harvard Medical School, and completed his residency at Brigham and Women's Hospital in Boston.
Dr. Nazer chose UCSF for his cardiology fellowship in part because it would allow him excellent opportunities to pursue broad clinical training as well as research. He is excited by his current rotation in the ultrasound lab. "I'm blown away by how much physiology is contained in an echocardiogram," he said. Dr. Nazer plans to pursue a career in academic medicine, and might subspecialize in either imaging or interventional cardiology. He is also looking forward to conducting research during his third fellowship year, and is excited by the many potential mentors at UCSF. "Everyone here has been so welcoming and helpful, and has helped show me the ropes," he said. "I'm really excited to be part of the UCSF family." Dr. Nazer is the 2012-2013 Cardiology Chief Fellow.
In his spare time, Dr. Nazer enjoys long-distance road biking, playing basketball, cooking and eating.