Fellow Spotlight: Pavan Cheruvu, MD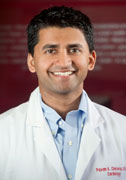 Dr. Pavan Cheruvu (pronounced "PUH-ven CHAIR-ooh-voo") was born in Michigan and grew up in Tampa, FL. He earned degrees in biomedical engineering, electrical engineering and chemistry from Duke University in Durham, NC. After graduation, he landed a summer internship at Guidant Corporation in Santa Clara, designing cardiac device technology, then earned a master's in computer science from Oxford University as a Rhodes Scholar. "I was so involved in device design that I thought, 'Wouldn't it be exciting to understand unmet clinical needs from a physician's perspective?'" he recalled.
Dr. Cheruvu earned his medical degree from Harvard Medical School, where he was enrolled in a joint program with the Massachusetts Institute of Technology. He took a year's leave from medical school to work at InfraReDx, Inc., a startup founded by cardiologist Dr. James Muller. As a clinical associate there, Dr. Cheruvu led preclinical studies of a diagnostic catheter that sought to predict heart attacks before they occur. He completed his residency at Johns Hopkins Hospital in Baltimore, then worked for two years at McKinsey & Company, serving as an engagement manager for medical device and pharmaceutical companies worldwide.
He plans to become an interventional cardiologist, and describes his training in UCSF's cardiac catheterization lab so far as "phenomenal." "The quality of care that's given here and the complexity of the cases have made it a very exciting time for me," he said.
Dr. Cheruvu is married to Dr. Deepu Madduri, an oncology fellow at Stanford University. In 2013, they became parents to their daughter, Sofia.