Fellow Spotlight: Gabriel Brooks, MD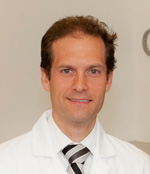 Dr. Gabriel Brooks was born in Washington, DC and grew up in Maryland. He trained to become a concert violinist, but yearned for a career with more human interaction. He had also had an interest in the biological sciences. "I thought that science plus humanities equaled medicine," he said.
After receiving his bachelor's degree in biology from Carnegie Mellon University in Pittsburgh, Dr. Brooks earned his medical degree from Weill Medical College of Cornell University in New York, then completed his residency at Johns Hopkins Hospital in Baltimore. "Cardiology was a great marriage of treating the whole patient with all of their issues pertaining to the heart, but also having the ability to change their life with things like cardiac catheterization, and things like heart failure drugs and VADs," said Dr. Brooks, referring to ventricular assist devices that can serve as a bridge to transplant.
As a Howard Hughes Medical Student Fellow, Dr. Brooks worked in a lab researching the development of coronary arteries, the blood vessels that supply the heart itself with oxygen and nutrients. He is interested in continuing research at UCSF related to heart and coronary artery development, as well as intervention. In his fellowship so far, he has particularly enjoyed working at San Francisco General Hospital, caring for a diverse and underserved patient population. He also appreciated managing care for a patient with complex, rare congenital heart disease, as well as working in the cardiac catheterization lab.
His wife, Caroline, is French, and Dr. Brooks enjoys speaking and learning more of the language. They are also new parents to a son, Maxime.