Fellow Spotlight: Alan Baik, MD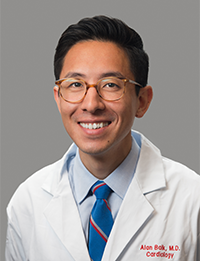 Dr. Alan Baik grew up in Los Angeles, graduated from Harvard with a bachelor's degree in biology, then completed his medical degree and internal medicine residency at UCSF. "I found the physiology of the heart and cardiovascular system very interesting, as well as what happened when things went awry," he said.
During medical school, Dr. Baik spent two years as a Sarnoff Cardiovascular Research Fellow at the Dana-Farber Cancer Institute in Boston, studying the role of the HIF pathway in remote ischemic preconditioning – a phenomenon in which briefly cutting off the oxygen supply to a distant organ in the body may help protect the heart later during a heart attack. He and his advisor, Dr. William Kaelin, Jr., discovered that deactivating a HIF-regulating gene just in a mouse's skeletal muscle provided significant cardioprotection during a subsequent heart attack. Dr. Baik and his colleagues found that a metabolite called kynurenic acid helped mediate this protection.
Dr. Baik chose UCSF for his cardiology fellowship because of the program's twin strengths in research and clinical training. So far, he has appreciated the strong focus on teaching, being entrusted with a high level of autonomy to make clinical decisions, and supportive professors who provide help and guidance.
Dr. Baik is interested in subspecializing in the care of patients with advanced heart failure, as well as conducting laboratory research to better understand how to prevent and treat this condition. In his spare time, he enjoys running in Golden Gate Park and spending time with friends.