Sudden cardiac death (SCD) accounts for 10% of total mortality and is believed to account for 60% of mortality from coronary artery disease (CAD) -- over 500,000 deaths -- in the United States each year.
The vast majority of true SCDs are due to lethal ventricular arrhythmias. It is estimated that 80% of SCDs occur in the setting of underlying CAD, and the majority of SCDs occur out-of-hospital in patients for whom SCD is commonly the initial, lethal manifestation of CAD. Despite advances in pre-hospital care, bystander cardiopulmonary resuscitation, and early defibrillation, survival to hospital discharge remains below 20%. However, all of the above estimates of SCD using widely accepted World Health Organization (WHO) and Hinkle-Thaler epidemiologic criteria are based on antemortem data alone and highly nonspecific death certificates, and therefore do not accurately reflect its true incidence nor underlying causes.
For more details, please refer to our most current publication, Prospective Countywide Surveillance and Autopsy Characterization of Sudden Cardiac Death: POST SCD Study.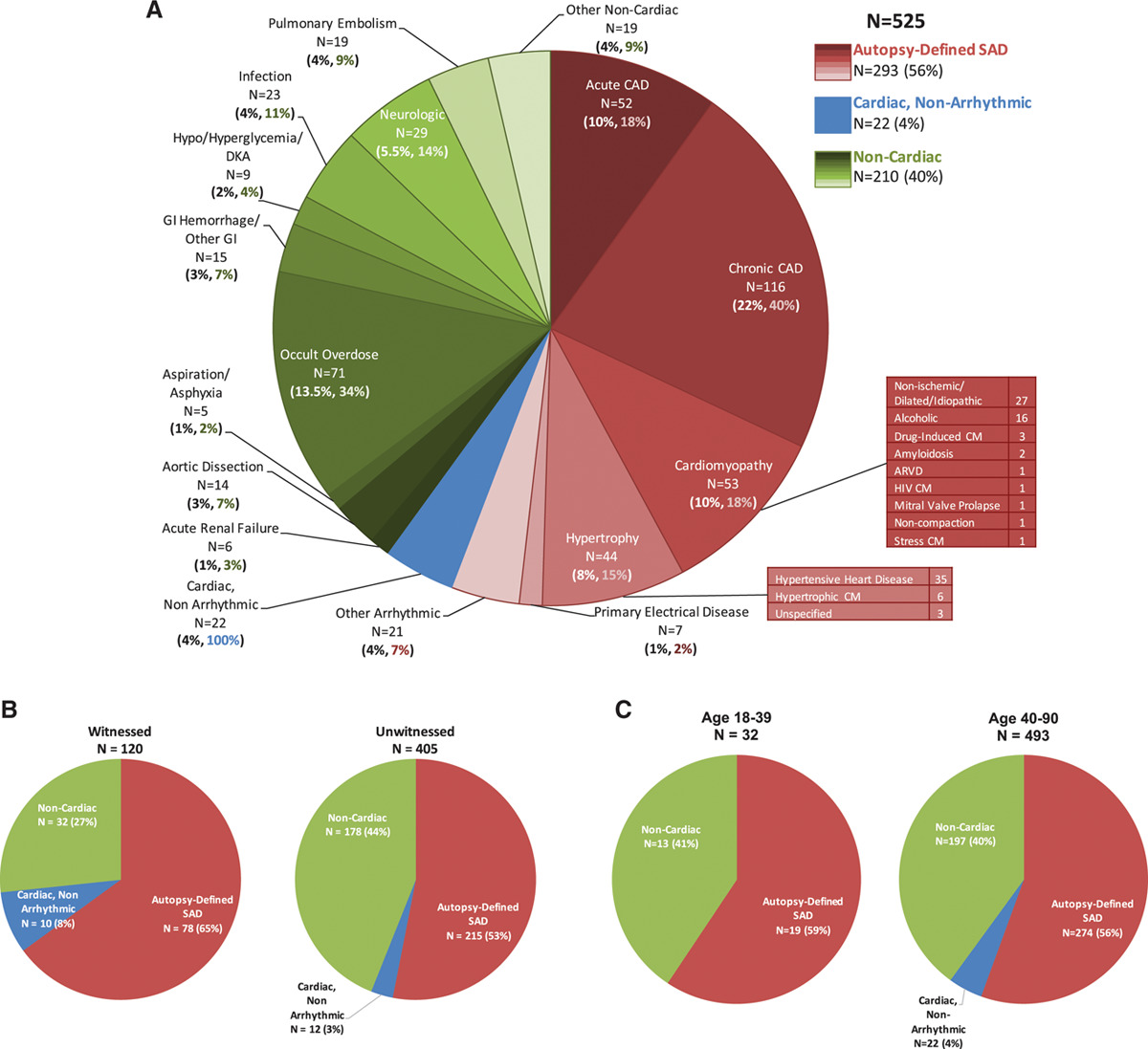 Source: ahajournals.org. Prospective Countywide Surveillance and Autopsy Characterization of Sudden Cardiac Death. 19 Jun 2018. 
Key Takeaways:
Only half (55.8%) of sudden cardiac deaths defined by conventional criteria were autopsy-defined sudden arrhythmic deaths
Leading causes of presumed sudden cardiac deaths were coronary disease (32%), occult overdose (13.5%), cardiomyopathy (10%), cardiac hypertrophy (8%), and neurological (5.5%)
Cardiac arrests defined by paramedic criteria and sudden cardiac deaths defined by conventional or retrospective methods, as in most cohort studies or clinical trials, have limited accuracy for actual arrhythmic deaths.
Family Outreach Initiative: KinList
Our comprehensive investigation, and the precise identification of underlying causes of nearly every SCD in San Francisco, allows us to satisfy an ultimate goal of POST SCD – preventing SCDs. Via our close interactions with the next-of-kin of SCD victims, we can target intervention for those at highest risk for future SCD: family members of SCD victims. Because some conditions predisposing to high risk of SCD are due to genetic mutations (e.g., hypertrophic cardiomyopathy or congenital long QT syndrome), we are designing a family resource, the Family Sudden Death Initiative, to help risk-stratify family members and complete future genetic screening if applicable.
HIV and Sudden Cardiac Death
In collaboration with Dr. Priscilla Hsue, we found that sudden death rates among HIV+ patients were about four times higher than sudden death rates in the general population, and accounted for 13% of all deaths among HIV+ patients. We recently received new NIH funding to identify risk factors and underlying causes of sudden death in the HIV+ population.
We are also working with Dr. Joseph Wong to determine tissue reservoirs of HIV, which may have implications for a cure.
For more details on current HIV POST SCD research, please refer to our abstract selected for oral sessions at CROI 2019, HIV POST SCD Study: 80% Higher Rate of Autopsy-Defined Sudden Arrhythmic Death In HIV.
Sudden Death in the Young (SDY)
We were selected in 2014 as one of only 10 sites nationally (and the only one of the West Coast) to participate in the CDC's Sudden Death in the Young Registry, which aims to perform comprehensive pre- and post-mortem investigations of all SDYs in the 10 sites to determine its true causes and risk factors. The SDY Case Registry is a resource for understanding unexpected infant and child deaths. The registry provides comprehensive information about the circumstances associated with these infant deaths, as well as information about case investigations and their components.
Objectives:
Create state-level surveillance systems that build upon child death review activities.
Categorize SDY using standard definitions.
Monitor the incidence of different types of SDY.
Describe demographic and environmental factors associated with the different types of SDY.
Guide interventions and potentially save lives.
Improve systems of care for families.
Cardiac Implantable Electronic Device Concerns
We recently reported that approximately 5% of all SCDs occur in patients who have a CIED (cardiovascular implantable electronic device), and half had device concerns (JAMA Internal Med. Article and UCSF press release). Our comprehensive post-mortem examinations of these devices can determine whether any malfunctions occurred that may have contributed to these sudden deaths. In the past, device problems have only been investigated as they occurred in living patients, and the most severe problems; those causing, contributing, or failing to rescue one from SCD, have not been captured because these out-of-hospital deaths are rarely investigated by medical examiners and coroners. Via the POST SCD mechanism and partnership we perform comprehensive post-mortem examinations of any sudden death with CIED to determine whether any malfunctions occurred in these sudden deaths. We are actively collaborating with the FDA to provide these unique data to help improve the design and utilization of these lifesaving devices.
For more details, please refer to our publication, Sudden Death in Patients With Cardiac Implantable Electronic Devices.
Sudden Neurological Death
Our research into all causes of sudden death revealed a surprising finding that over 5% of all apparent SCDs are due to neurologic cause, a condition we have coined Sudden Neurologic Death. In partnership with UCSF neurologist Dr. Anthony Kim and NYU epileptologist Dr. Orrin Devinsky we are characterizing the risk factors and underlying causes of these SNDs, including fatal strokes, intracranial hemorrhages, and Sudden Unexpected Death in Epilepsy (SUDEP).
For more details, please refer to our publication, Sudden neurologic death masquerading as out-of-hospital sudden cardiac death.
Excel calculators for predicted probabilities of autopsy-defined Sudden Arrhythmic Death (SAD) among presumed, WHO-defined SCDs
Calculate the predicted probability of autopsy-defined SAD for both witnessed and unwitnessed cases using pre-mortem characteristics (either EMS or comprehensive levels; four calculators in total). Equations are also provided for ease of cohort-level applications.