Faculty Spotlight: Harsh Agrawal, MD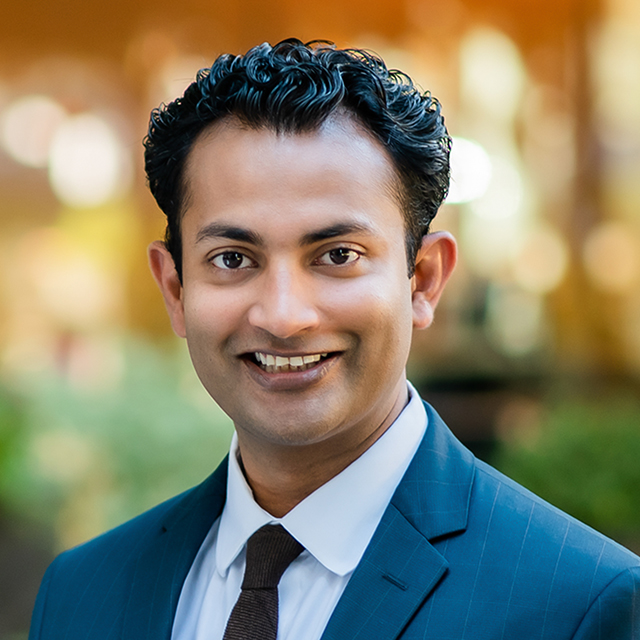 Fixing Hearts Without Surgery
Growing up in India, some of Dr. Harsh Agrawal's first memories were seeing patients line up outside his family's home. They were there to see his father, a Harvard-trained endocrinologist and dean of King George's Medical University, a large medical school in their hometown of Lucknow.
"My dad is retired now, but he still has a private practice and works from 9 a.m. to midnight, six days a week," said Dr. Agrawal, who recently joined the UCSF faculty as an adult structural interventional cardiologist. "I take my inspiration from him. Patients come from distant villages or ride a bus for 18 hours from Nepal to see him. Some of them show up with very bad diabetes, tuberculosis, and heart disease. He sees 40 to 50 patients a day with a smile, even at midnight. I've learned to get energy from patients and how we can help them." Dr. Agrawal also was inspired by his mother, a retired professor of pathology who continues to run her own lab, as well as other medical professionals in the family.
After graduating from St. Francis' Catholic School and College, he earned his medical degree from Bharati Vidyapeeth Medical University in Pune, India, followed by an internship at King George's Medical University in Lucknow. He then completed his internal medicine residency from UCLA, where he also completed fellowships in general internal medicine and medical education, followed by a cardiovascular medicine fellowship at the University of Missouri in Columbia, Mo., an interventional cardiology fellowship at St. Elizabeth's Medical Center in affiliation with Tufts University in Boston, and an adult structural intervention fellowship at UCSF. 
"Dr. Harsh Agrawal has a great passion for structural cardiac interventions and is a great addition to the structural cardiac team at UCSF," said V.S. Mahadevan, MD, William W. Parmley Endowed Chair in Cardiology and one of Dr. Agrawal's mentors.
"I did my structural fellowship at UCSF with Dr. Mahadevan, who is a leader in the congenital and structural heart disease world," said Dr. Agrawal. "The culture was very collegial and supportive, and there is so much cardiovascular research here. When they asked me stay on as faculty, I was super excited to work with some of the pioneers in the field of heart disease."
Dr. Agrawal spends most of his time caring for UCSF Health patients in the cardiac catheterization lab, outpatient clinics, and hospitalized patients in the Cardiac Care Unit and general cardiology ward.
A Rapidly Evolving Field
Dr. Agrawal chose interventional cardiology because of the opportunity to use his hands to help people, and because the field is advancing so rapidly. One of his specialties is implanting heart valves percutaneously. This involves delivering them to the heart through catheters, similar to a stent, rather than requiring open-heart surgery. "Five or 10 years ago we had to open people up to change their heart valves – which was a major heart surgery with numerous complications – or they would slowly die," he said. "Now we can go in through the artery near the thigh and change the valve, and they can go home the next day. That is amazing! Patients recover faster and have a better quality of life with fewer complications. The structural field is rapidly expanding and changing, and that's what I love about it."
The percutaneous approach can also reduce lifetime risks for patients who previously might have needed repeated surgeries to replace failing valves. "Repeat surgery is risky because you have scar tissue [from the first surgery], and the patient is older than when they had their first surgery," said Dr. Agrawal. "But now, let's say someone gets a percutaneous valve at age 50, which lasts them 10 to 15 years. Then, when they're in their 60s and still relatively young and healthy, we can do open-heart surgery to remove that percutaneous valve and put in a new valve that lasts another 10 to 15 years. Then, when they are 70 or 80, we can give them a new percutaneous valve right on top of the old valve. So with only one open-heart surgery, they get three valves."
One of the latest innovations is a clinical trial to use advanced cardiac imaging to scan a patient's heart, then use a 3-D printer to build a model of it.
"We use that model to make sure that we can fit the device into the patient's heart," said Dr. Agrawal. "That way, when we are doing the procedure, we've already experimented outside the patient's body to make sure there are no mistakes."
Another advance is using conscious sedation for the majority of structural heart disease procedures. "People are sedated and comfortable, but we reduce the risk of complications because we're not intubating them or giving them general anesthesia," said Dr. Agrawal. "People know that something is happening, but they are calm and don't feel any pain because we give them medications." Because UCSF is such a high-volume center for structural interventions, the team is very skilled at managing conscious sedation.
UCSF is also a leader in delivering stents through blood vessels in the wrist rather than the groin. This allows patients to walk immediately after the procedure, rather than needing to be on bed rest for six hours to avoid straining the leg artery and risk bleeding. Because replacement heart valves are larger than stents, they still need to be inserted through the groin.
In addition to being able to replace all four valves of the heart through percutaneous techniques, Dr. Agrawal and his UCSF colleagues can also use this approach to close holes between the atria, or the upper two chambers of the heart. They insert a dumbbell-shaped plug, with two discs connected by a short rod, into the heart, and place the device at the site of the hole in the septum, which is the heart wall that divides the atria. The septum grows around the device, plugging the hole. "We can do this procedure pretty easily in two hours, and the patient can go home later that day," said Dr. Agrawal. "Previously, the chest had to be opened to patch the hole, and it was a major operation. Not anymore."
Of course, there are situations where cardiac surgery is currently the only way to address a problem, such as repairing a patient's own valve, or removing infected valve tissue. UCSF patients benefit from the combined expertise of both cardiac surgeons and interventional cardiologists. "We plan out our procedures very carefully, and patients are evaluated by surgeons as well as us," said Dr. Agrawal. "They get a CT [computed tomography] scan, an echocardiogram, and a cardiac catheterization, and we discuss the plan together." The team tries to schedule all tests and appointments on one or two days, saving patients from making multiple trips to prepare for their procedure.
UCSF conducts all its percutaneous procedures in hybrid operating rooms, which can also be used for cardiac surgery. "Whenever we do a percutaneous procedure, there is always a cardiac surgeon and OR nurses in the room on standby," said Dr. Agrawal. "With our cath lab nurses, anesthesiologist, and others, there are 15 to 20 people in the room." Although it rarely happens, the team is prepared to seamlessly switch gears from a percutaneous to a surgical approach when needed. This spares the patient from having to go home without having the procedure done, and then needing to undergo surgery on a separate visit.
Global Health and Education
In addition to his very specialized interventional cardiology expertise, Dr. Agrawal has a passion for global health and medical education. He provided medical care in southern India to survivors of the 2004 tsunami, volunteered to help people displaced by the 2015 earthquake in Nepal, and worked with children who had leprosy through Mother Teresa's Missionaries of Charity. He also has provided cataract checkups, dietary counseling for diabetic patients, and polio immunizations for children.
Dr. Agrawal now is able to bring his skills as an interventional cardiologist to colleagues back in India. "Whenever I go back, I visit my med school and other med schools to help out, see patients in clinic, and do some procedures [with the team there]," he said. "It's always rewarding to help out and bring my knowledge from here to them. It also really helps me understand how bad the burden of cardiovascular disease is everywhere. Heart attack, obesity and diabetes all go along together, and we have to think about how to prevent heart disease, not just treat it. That way we could make a big change, like we have for HIV, polio and malaria."
Dr. Agrawal has a longstanding interest in medical education. "I think that started because my dad used to grill me at home with questions," he said. "In medical school, I noticed that I learn by reading and teaching." He also found that standard medical lectures were not always the most effective ways to learn. "They were one-sided communications, and it didn't matter if you understood a word or not," he recalled with a laugh. "I think that has to change, because if med students don't know how to communicate, learn, and teach, that's a problem."
He appreciates UCSF's focus on smaller classes, the innovative new Bridges Curriculum, and the focus on cultivating interpersonal skills rather than just test-taking. As an educator, Dr. Agrawal is especially focused on training the next generation of interventional cardiologists. "There is a very fine balance between patient safety and autonomy," he said. "You don't ever want them to make a mistake, but you want to give fellows enough autonomy so they can learn how to do a procedure."
Dr. Agrawal advises trainees to know both the patient and the steps of the procedure thoroughly, and to move slowly and meticulously. He also encourages them to ask for help when needed.
"Know your limits and when to stop," he said. "We are here to help out. At UCSF, there is a lot of focus on teamwork and collaboration."
Dr. Agrawal himself models this. "Sometimes if there's a procedure that is very high-risk and we don't do it often, I will ask my senior [colleagues] to do the procedure with me," he said. "I'm pretty confident in what I do, but I'm humble, and that humility permits me to ask for help. It's not about my ego, it's about someone's life."
Empowering Patients
Dr. Agrawal is also involved in several clinical research projects. It has been difficult for patients with renal disease to get an aortic valve replacement, because the computed tomography (CT) scans needed to image the heart use a contrast agent that can be hard on the kidneys. Dr. Agrawal and his colleagues developed a magnetic resonance imaging (MRI) protocol using a different agent called ferumoxytol, an iron-based contrast that does not go through the kidneys and can be detected by MRI. 
In another project, Dr. Agrawal has done a meta-analysis of patients with a hole in their heart called a patent foramen ovale (PFO), a hole between the right and left atria that did not close properly after birth. It is a relatively common condition, affecting about 25 percent of the population, and most people do not realize they are affected. Dr. Agrawal's research suggests that PFO closure can be beneficial to patients, especially those who have had previous strokes. With percutaneous PFO closure devices, this procedure can now be done less invasively than through open-heart surgery.
He is also working on a project focusing on patients with rheumatic mitral valve disease. Rheumatic fever is rare in the United States, but very common in developing countries. One of the problems that can develop later in life is mitral stenosis, in which the mitral valve becomes scarred and does not open properly, blocking blood flow. Dr. Agrawal and medical school colleagues in India have been testing whether using angioplasty with same-day discharge to open up the blocked valve is effective, and so far the outcomes have been favorable.
As a clinician, Dr. Agrawal is a firm believer in offering choices to patients. "I always like to look at the big picture," he said. "With the innovations in structural heart disease, we have many options now. With precision medicine, we can find the right fit for the patient, not just offering the same one-size-fits-all option."
He also believes in taking time to find out what is most important to patients, and to tailoring the treatment plan to fit their priorities. Sometimes that means not doing a procedure if it does not match with their current goals of care. "I always tell patients, 'This is not set in stone,'" said Dr. Agrawal. "'If you don't want this procedure today, if you're not feeling good in six months, come back and we can talk about it again.' This is a choice that they are making, not something I'm saying they have to do. I tell them, 'It's your health, your body, and you get to make the decision.' My joy comes from knowing that I have done the right things for the right patient."
Outside of medicine, Dr. Agrawal enjoys playing soccer, going to concerts, and hiking with his family in Muir Woods.
– Elizabeth Chur