Faculty Spotlight: Jie Yang, MD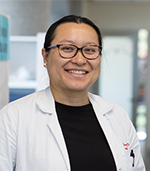 Cardiologist Jie Yang, MD, was born in Kunming, China, and moved to Chicago at age 4. Her father, an industrial engineer, got a job at Kansas State University in Manhattan, Kan. "It was the quintessential small American town, where everyone had a station wagon, a cat and a dog," she said. "I had a wonderful childhood – it was the American dream."
Her adventurous spirit led her to UC Berkeley for college. By chance, she landed a work-study job in the lab of renowned biochemist Daniel Koshland, PhD, where she started off washing beakers and preparing Petri dishes. "I still wasn't sure what I was going to major in," Dr. Yang said. "Professor Koshland was very encouraging. He loaned me all these books of famous scientists and physiologists, and said, 'This is so interesting! You should do it!' The more I worked with him and got that encouragement, the more I thought, I actually really like biology."
She graduated with a bachelor's degree in molecular biology and considered becoming a biochemist. While pondering her next steps, Dr. Yang moved to Shanghai for a year. She is fluent in Mandarin, and took a job as a hospital interpreter for English-speaking patients. "It was so fun!" she said. "It was really fascinating to apply the biology I had learned to actual human beings. Also, when you're doing biochemistry research, you can labor away for months and sometimes not end up with any tangible results. But as a translator, I really enjoyed the immediate gratification of helping patients."
Jokingly referring to herself as "greedy," she decided to pursue both medicine and science, and enrolled in an MD/PhD program at the University of Cincinnati. However, Dr. Yang ultimately realized that medicine was more compelling to her, and decided just to complete her medical degree.
During her internal medicine residency at California Pacific Medical Center (CPMC) in San Francisco, she had an inspiring experience caring for a heart attack patient in his late 80s who received a stent. "He came in on the verge of death, and the very next day he was walking around the ICU and looked great!" said Dr. Yang. "It was amazing. That was my first moment where I thought, 'Cardiology is kind of cool!'"
She also was attracted to the field because it is so logical and data-driven. "Unlike some other areas of medicine where you just memorize things, I really like cardiac hemodynamics," said Dr. Yang. "The physics of it work, and you can calculate things." She went on to complete an echocardiography fellowship at UCSF, a cardiology fellowship at CPMC and an advanced heart failure and transplant fellowship at LAC + USC Medical Center (formerly known as Los Angeles County General Hospital) in Los Angeles.
Meeting Patients Halfway
Dr. Yang was recruited to Alameda Health System's Highland Hospital in Oakland, which cares for vulnerable populations in the East Bay. She served as director of the Heart Failure Clinic, and enjoyed building long-term relationships with her patients.
"A lot of times, high blood pressure, high cholesterol, and even heart disease are related to situational factors that you don't perceive on the first visit," said Dr. Yang. "I try to leave the door open for patients to share if there are reasons why it's difficult to make lifestyle changes."
For example, one patient was stressed about her dog's persistent health problems. "She didn't want to bring it up because she didn't feel like it was medically related," said Dr. Yang. "After a couple of visits, I asked, 'So… what else is going on?' She told me and I was able to understand why she was having problems. One of the fun things about my job is that I get to just chat with people. Eventually you're friends and have a relationship where they can tell you things. Hopefully things eventually stabilize, and then we can start with actual lifestyle changes."
At Highland Hospital, she also cared for many low-income patients, which shaped the way she practices. One patient said he was taking his medication, but his blood pressure failed to improve. Puzzled, Dr. Yang called the pharmacist, who told her that the patient could only afford to pay for half of his prescription. "I realized that the patient had a lot of pride and didn't want to tell me about it," she said. "Now I try to meet people halfway, and ask if they have any financial difficulties or other things that hinder their ability to take their medications or take care of themselves."
A Winning Team
As much as she enjoyed her work at Highland, Dr. Yang decided to join the UCSF faculty for the chance to work at an academic medical center and help create the new cardiology clinic in Berkeley. She and her colleague, Clifton Watt, MD, are the first two UCSF cardiologists to be based at the new Berkeley Outpatient Center, a joint partnership between UCSF and John Muir Health. The center, located in West Berkeley at 3100 San Pablo Avenue near Ashby Avenue, provides primary care as well as a number of specialties.
Dr. Yang appreciates her UCSF colleagues and the resources of a large university. "We have an amazing pharmacy group I can call and say, 'What can I do to get this patient their medication as cheap as possible, for years and years?'" she said. "They think of all sorts of creative ways to get uninsured or underinsured people their medications. I also get to order cutting-edge studies and tests, such as cardiac MRIs [magnetic resonance imaging], which are more and more standard for people who have arrhythmias and cardiomyopathies."
Dr. Yang can also refer patients with adult congenital heart disease – or birth defects of the heart – to world experts in the field. UCSF is a leader in offering many of these patients alternatives to open-heart surgery, such as percutaneous procedures that can deliver a replacement heart valve using technology similar to a stent. "Being able to have direct access to UCSF faculty who specialize in this, like Dr. Vaikom Mahadevan, has expanded my repertoire of options for my patients," she said. "At UCSF, I get to work with doctors who are doing amazing cutting-edge things. It's a privilege to watch what my colleagues are doing with their research, bask in their glow, and learn from them."
She also appreciates others on her Berkeley-based team, such as Marie Strusinski, RN, a cardiac nurse who helps run stress tests at the new clinic. "Marie has worked at UC for years and years, and knows so much about how it works," said Dr. Yang. "Whenever I don't know how something works, I'll say, 'How do I send this patient to sleep medicine?' and she'll step right up and say, 'I'll take care of it.' It's wonderful to have that support when you're trying to create a new vision of your clinic."
She and Dr. Watt have also been encouraged to test out different ways of making care more accessible to patients in the new Berkeley clinic. For example, they might try offering telehealth visits to save patients who live far away from spending a whole day commuting to and from their appointment, or offer evening appointments to make it easier for patients to come after work.
While she spends most of her time in Berkeley, Dr. Yang also loves caring for hospitalized cardiac patients at Moffitt-Long Hospital on the Parnassus campus. "I get to interact with UCSF residents, who are super sharp, dedicated and fun," she said. "I like to say, 'What do you guys think?' and then let them drive the boat. They come up with the most wonderful explanations and answers. It's a great environment not only for taking care of patients, but for both teaching and learning."
In a way, Dr. Yang is paying it forward from the inspiration she received as a UCSF trainee. "I had wonderful mentors at UCSF like Dr. Elyse Foster and Dr. Nelson Schiller," said Dr. Yang. "Not only do they have clinical knowledge and experience, but their ability to convey information as teachers was incredible. I still look up to them so much."
That admiration is mutual. "I have had the pleasure of knowing Dr. Yang for eight years, first as an internal medicine resident at CPMC, from whence I recruited her to be a research and clinical echocardiography fellow," said Dr. Schiller, John J. Sampson-Lucie Stern Endowed Chair in Cardiology. "Her outstanding performance led to her return to CPMC as a core fellow. Jie excelled in every aspect and was an easy choice for chief fellow. When I heard that we were opening an East Bay extension of our faculty practice, I enthusiastically asked the search committee to consider her as the perfect candidate. Jie has a charming personality with a relaxed demeanor, and as a clinician she is top-tier. Our faculty has been enriched by her membership."
The Power of Prevention
Although Dr. Yang has specialized training in caring for patients with advanced heart failure, one of her passions is finding ways to intervene before they end up in dire straits. "When you work with the sickest of the sick, you realize that if we had caught them ahead of time, sometimes we could have prevented them from being stuck in a hospital waiting for a new heart," she said.
"At times, prevention feels like you're not doing a lot, but I actually think it can be even more powerful than putting in a stent," said Dr. Yang. "You can really change the shape of the next 10 or 20 years. It's rewarding when I see patients slowly changing their lifestyle, because I feel like I helped put them on a different path."
Even simple things can have a big impact. One of her diabetic patients was still unclear about what she should and should not eat, even after attending multiple health education classes. "I printed out pictures of lots of different kinds of foods, and put a big X on the ones that were bad, and circled the ones she should eat," said Dr. Yang. "She said, 'This is the best teaching I've ever had!' and was so grateful. After a couple months, her glucose was a little better controlled.
"In the long run, I hope that what I'm doing can be equally powerful and life-changing as being part of a team who helps a patient get a transplant," said Dr. Yang. "Once in a while patients come back and said, 'I lost 20 pounds and now I don't have high blood pressure anymore.' That's super rewarding."
Outside of medicine, Dr. Yang enjoys watching the Bon Appétit YouTube channel and making pickled foods. She is married to her college sweetheart, Cristian Esquivias, a software developer in San Francisco. Together they have a young son.