Faculty Spotlight: Jamie Kennedy, MD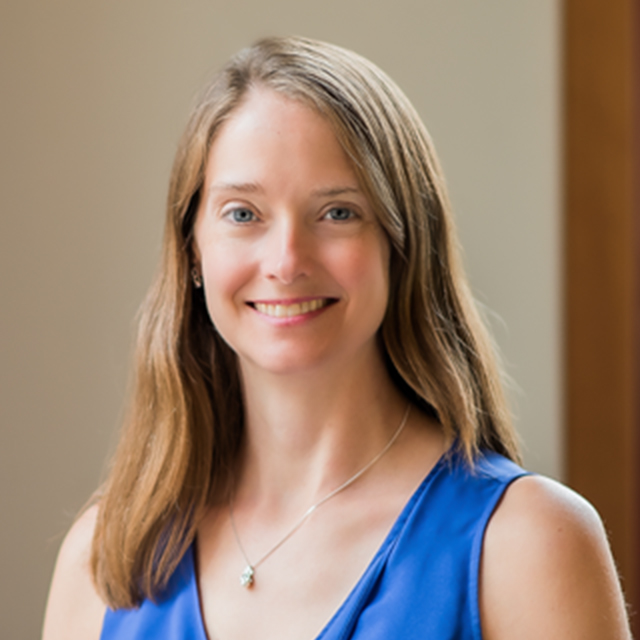 Delivering State-of-the-Art Cardiac Care
The field of advanced cardiac interventions is evolving at a dizzying pace, and many patients who would have died can now be saved by new technologies and approaches. However, this increasingly complex field demands a level of specialized expertise that is difficult to achieve when faculty spend just a few weeks a year taking care of hospitalized patients.
To address this need, cardiac intensivist Jamie Kennedy, MD, was recruited to the UCSF faculty in 2019 as medical director of the new Cardiac Intensive Care Unit (ICU). She leads a cohort of about 10 other UCSF cardiologists who dedicate substantial time each year to caring for these critically ill patients.
"There used to be two cardiology attendings who took care of patients in both the ICU and the regular hospital floor simultaneously," said Dr. Kennedy. "There are varying levels of experience with critical care, and two weeks a year of inpatient care is probably not sufficient to build your critical care expertise. UCSF recognized that we have to build a team of physicians who are comfortable with critical cardiac care in the modern era, including all the various devices we can implement. Just like a surgeon or an interventional cardiologist, you have to spend sufficient time doing it to keep your skills up so you can recognize small problems and fix them before they become big problems."
Dr. Kennedy spends about half the year as an attending in the Cardiac ICU, and is leading efforts to develop this program from the ground up. She and her colleagues hope to build a dedicated team focused on caring for this patient population. Also, the six to 10 patients her team cares for at any one time are scattered throughout the hospital in various ICUs, which is not ideal. Dr. Kennedy hopes to carve out a dedicated location where the team can keep a close eye on all of them.
Critical Care for Today's Patients
Fifty years ago, coronary care units (CCUs) became common in many hospitals, designed specifically to treat heart attack patients who were at high risk of developing life-threatening abnormal heart rhythms. The patients were on heart monitors, and nurses were ready to shock them if their hearts went into dangerous arrhythmias.
"This intervention worked," said Dr. Kennedy. "But the disease states that we're taking care of have evolved dramatically." Now many heart attack patients receive stents right away, helping to prevent the kind of irreparable damage and scar tissue that can lead to severe arrhythmias. At the same time, today there are increasing numbers of patients with severe heart failure and valve disease who end up in the Cardiac ICU.
The good news is that cardiologists now have a broader range of treatments to offer them, such as better medications as well as mechanical devices that can be delivered to the heart through a catheter, rather than requiring open-heart surgery. "Patients who need those interventions are not super healthy, so sometimes they're in the Cardiac ICU, trying to get them to a place where they can safely undergo a procedure," said Dr. Kennedy. "Some of them, because of their tenuous nature, need to spend time in the Cardiac ICU after their procedure, recovering. It really pushes the limits of medical care. At what point is a patient too sick for an intervention to be helpful? We're always trying to push the envelope of what's possible, but that's part of the learning curve for each new intervention."
Her colleague Richard Cheng, MD, is also heading up a new cardiogenic shock initiative, which seeks to rapidly identify and treat patients whose hearts are unable to pump enough blood to the body. Cardiogenic shock is a serious condition that requires immediate treatment, but unfortunately patients sometimes go undiagnosed for days. "We are developing ways to rapidly diagnose the problem and get teams with the right people involved, whether it's an interventional cardiologist, cardiac surgeon, or others," said Dr. Kennedy. "Together they can quickly come up with the right treatment plan for the patient, the same way we have rapid response teams for heart attack or stroke."
Leading through Consensus
Dr. Kennedy's father served in the Navy, and she was born at Bethesda Naval Hospital, moving frequently throughout her childhood. She earned a bachelor's degree in biochemistry from the University of Notre Dame in Notre Dame, Ind. Then she started a doctoral program in biochemistry at the University of Virginia in Charlottesville, Va., but it wasn't a good fit. "I got bored," said Dr. Kennedy.
"Bench science research is very focused on doing the same experiment many times with minor variations, and is a slow process with very little interaction with other people. I wanted a career where I had more interactions with people, and could hopefully see more rapid results from my efforts. My husband had gone to medical school and seemed to be having a good time, so I decided to go to med school, too."
Dr. Kennedy completed her medical degree at Indiana University School of Medicine in Indianapolis, then returned to the University of Virginia, where she completed her internal medicine residency and fellowships in cardiovascular disease and advanced heart failure and transplant cardiology. "I was drawn to cardiology because there are so many effective treatments available now," she said. "It's rewarding to care for very sick patients, knowing that we have the tools to help some of them go from critical illness to substantial recovery, to coming back to clinic six months later with pictures of their grandchildren."
She was on the faculty of the University of Virginia for seven years, serving as medical director of the pulmonary hypertension center. "One of the highlights of my time there was developing the PH program into an accredited comprehensive care center by the Pulmonary Hypertension Association," said Dr. Kennedy. "We provided integrated inpatient and outpatient care, and offered research opportunities for patients."
Pulmonary hypertension is a type of high blood pressure that affects the arteries of the lungs as well as the right side of the heart. There are a number of different causes, each requiring a different kind of treatment. "It's a complex field," said Dr. Kennedy. "It's important to understand the patient's true pathology, which can be challenging because there are a lot of red herrings, and you can get fooled sometimes."
One treatment option for some patients is continuous intravenous medications for life, which are administered via an implanted pump that slowly delivers the medications into their bloodstream. "It's a big commitment, but patients can feel substantially better and live substantially longer if they are willing to take on that burden," said Dr. Kennedy. "I spend a lot of time helping patients understand their disease and the treatment options, and trying to understand what their goals are so we can determine what option works best for them."
To develop the pulmonary hypertension program, Dr. Kennedy worked hard to build a good team. "It's all about finding people who are interested in the same patient population, and putting their talents together to work towards a single goal," she said. "I try to gather a lot of input, build consensus, and have people buy in and agree, rather than saying, 'This is what we're doing.' It's important to really listen to folks and understand their perspective. They may say, 'No, I can't do that,' but I try to find out the reasons behind it – whether they think the technology isn't good, or they have 20 million other things to do. It helps to understand where your colleagues are coming from."
She took a similar approach as the medical director of the coronary care unit, overseeing patient care, leading the adoption of new policies and technologies, and steadily increasing the level of care that the team could offer to patients. "It's exciting to do cutting-edge work, but you have to do the homework to make sure you do it right," said Dr. Kennedy.
Her meticulous, nuanced approach also translates to her communications with patients and their families.
"We cultivate long-term relationships with patients," said Dr. Kennedy. "For advanced heart failure, a lot of options won't work if the patient doesn't want to invest their time and compliance. One of the most important things is to try to give the patient as much information and as much time as possible to think about options."
She cited a survey of patients with severe heart failure who had gone on to get ventricular assist devices (VADs) – implanted heart pumps that support heart function and blood flow in patients with weakened hearts. Patients reported that they found out they needed a VAD a few weeks before it was implanted, but ideally would have wanted a year to think about it and prepare themselves.
Dr. Kennedy is also skilled in talking with families when patients themselves are not able to communicate. "There's an added layer of complexity, because we're asking families to make decisions that the patient would make, rather than what the family wants for the patient," she said. "We encourage them to take what their loved one said about their wishes and to implement it. In that way they honor their loved one's independence and decisions."
Providing Tailored Care for Each Patient
While care of acutely ill cardiac patients has come a long way, there are still many unanswered questions. For example, Dr. Kennedy hopes to find better ways to identify patients with pulmonary hypertension early on, and to develop better treatments so they do not develop right-sided heart failure. Most of the current interventions are focused on a subtype of the condition called pulmonary arterial hypertension, and unfortunately have limited success in patients with pulmonary hypertension caused by heart disease. "This is a big area of uncertainty needing a lot of research," said Dr. Kennedy. "Many of these patients end up in the Cardiac ICU."
Another frontier is tricuspid valve disease, which occurs when the valve between the upper and lower chambers of the right side of the heart leaks, allowing blood to flow backwards in the heart. Dr. Cheng is discovering more about this problem, including whether the root cause is the valve itself, the surrounding ventricle, or the pulmonary circulation. "We're still figuring out how effective tricuspid interventions are in the face of these other significant abnormalities," said Dr. Kennedy. "For which patients are they a good fix, and for which patients is it just a Band-Aid on a gaping wound? We try to develop really careful, thoughtful approaches for every patient."
Yet another area where she hopes to discover more is a particular type of heart failure called diastolic heart failure. Unlike systolic heart failure, which occurs when the heart muscle's ability to squeeze is compromised, diastolic heart failure occurs when the heart muscle can still squeeze normally, but has trouble relaxing in between beats. "Left ventricular systolic heart failure is a pretty well-defined disease with well-defined interventions, but a lot of the time I don't think we really understand what causes diastolic heart failure," said Dr. Kennedy.
Some patients with this condition may have amyloidosis, in which an abnormal protein called amyloid builds up in various organs, including the heart. Other subgroups who may develop diastolic heart failure include older women with high blood pressure, and younger women who have untreated sleep apnea and are obese. Kidney disease can also play a role, particularly in the body's retention of excess fluid – a hallmark of heart failure. "My personal take is that for diastolic heart failure, there are probably several different disease processes that we have not yet identified, so we just lump them all together," said Dr. Kennedy. "Once we start to understand the different pathologies and disease processes, we'll be better able to target treatments."
Dr. Kennedy is excited to be at UCSF, and particularly appreciates the integration of research and patient care. "I'll be at a noon conference where people are describing what they're studying in their lab, and it's often relevant to a patient I'm taking care of," she said. "It's neat to have these excellent scientists sharing their findings and insights…. At UCSF, rather than hearing 'We can't do this,' the culture here is 'How can we work together to make this happen?' That's an important culture to have."­­
Dr. Kennedy is married to Robert G. Kennedy, MD, a physician in the Department of Family and Community Medicine who specializes in sports medicine. They have two grown children, Anna and Frank. Dr. Kennedy enjoys running with her husband, playing with their two dogs, and rowing on Lake Merritt.