Faculty Spotlight: Nisha Parikh, MD
The Heart of a Mother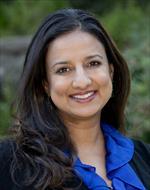 "We think of pregnancy as a cardiometabolic stress test," said Dr. Nisha Parikh (pronounced "KNEE-sha pah-REEK"). "If you can get through pregnancy without preeclampsia, diabetes, preterm delivery or a small infant, your chances of having heart disease are less than a woman with one of those complications."
Dr. Parikh investigates the effects of normal and abnormal pregnancy on future cardiovascular disease risk in women. She has received grants to develop a tool that draws upon a patient's reproductive history to identify women earlier who are at increased risk for heart disease. Such a tool would be free, non-invasive, and could be used as soon as a woman has finished having children – perhaps 10 to 20 years earlier than current risk assessment. "It's an exciting area for research, and is just starting to get attention from the cardiology and public health communities," she said.
Framingham Experience
Dr. Parikh grew up in Los Angeles and Saudi Arabia, where her father worked as a structural engineer. At UC Berkeley, she earned her bachelor's degree in molecular and cellular biology and immunology and her masters of public health. She then completed her medical degree at New York Medical College in Valhalla, NY, her residency at Tufts-New England Medical Center in Boston, and her clinical and research cardiology fellowship at Harvard Beth Israel Deaconess Medical Center in Boston.
She also completed a cardiovascular epidemiology research fellowship at Boston University School of Medicine, working with the Framingham Heart Study. Established in 1948, this landmark research effort originally recruited 5,200 adults in Framingham, MA, to identify major risk factors for cardiovascular disease. It now follows three generations of participants.
"For cardiovascular epidemiology, it is the Mecca of research," she said. "The most amazing thing is that although participants have spread out across the country and world, they keep flying back on their own dime for visits because they recognize the impact they're having on preventing cardiovascular disease."
During her Framingham years, Dr. Parikh investigated the intersection of kidney and heart disease. As a new mother, she also wondered whether breastfeeding had any relation to cardiovascular health. While pregnant women were excluded from follow-up visits at Framingham, Dr. Parikh tracked down a breast health questionnaire that had been mailed to some participants. She found that children who were breastfed tended to have higher HDL (the "good" cholesterol) and lower body mass index in adulthood.
"I think Framingham and so many other cardiovascular disease cohorts excluded pregnant women because they experience changes in blood pressure, body mass index, lipid profile and insulin resistance," said Dr. Parikh. "But I am interested in pregnant women for those exact reasons. Eighty-five percent of women have children, so it's important to understand these physiologic changes better, and to not assume that everything goes back to normal after pregnancy." She is currently analyzing information from the NIH-established Women's Health Initiative, as well as a cohort in northern Sweden.
Patient Care and Research
After her fellowships, Dr. Parikh worked for Kaiser Permanente in Hawaii, then served as a cardiologist and associate director of the clinical fellowship program at Queens Medical Center /University of Hawaii. She decided to join the UCSF faculty in part because of the outstanding research opportunities, and is particularly excited about the Health eHeart Study – a web-based cohort which the UCSF Division of Cardiology hopes will eventually enroll up to a million people. The study allows participants to use smartphones and other devices to contribute information about their heart rate, exercise habits and a wealth of other data points.
In addition to her research, Dr. Parikh is establishing her general cardiology clinic at UCSF. "It's very satisfying when patients realize how they can change their lifestyle to prevent future heart problems," she said. "I enjoy thinking about everything I can do to help them."
Dr. Parikh is married to Sharad Vivek, who works in business development for Twitter. Together they have two daughters, Laila and Kinneri, and a son, Zubin. Dr. Parikh is an avid traveler, and also enjoys cooking and jewelry making.