Faculty Spotlight: V. S. Mahadevan, MD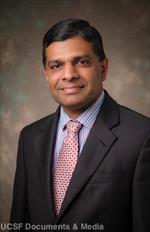 "In the Western world, about 80 percent of all children who are born with a congenital heart condition will become an adult," said Dr. V.S. Mahadevan, the William W. Parmley Endowed Chair in Cardiology and an expert in caring for adults with heart defects. "But about 50 percent of all adult congenital heart patients will need further intervention or surgery, as well as ongoing care and treatment."
Dr. Mahadevan (pronounced MAH-ha-day-ven) was recently recruited from the Manchester Royal Infirmary in the United Kingdom, where he pioneered less invasive methods of treating these patients. As an interventional cardiologist, he specializes in using catheter-based procedures, in which devices and instruments are threaded through a blood vessel up into the heart.
For more than a decade, he has used this technique to replace valves that have become stiff, narrowed or unable to close properly. Although valve replacement has been accomplished through open heart surgery for decades, Dr. Mahadevan is one of the few cardiologists in the world who has used catheter-based approaches to replace valves in all four positions in the heart – the aortic, mitral, pulmonary and tricuspid valves. He also led the team which performed the first-in-human mitral valve replacement using a catheter-based procedure.
While open heart surgery is still the gold standard for valve replacement, it carries significant risk: a large surgical incision is made in the chest, and the patient's heart is stopped while he or she is placed on a heart-lung machine during the procedure. By contrast, catheter-based procedures – also known as percutaneous or transcatheter procedures – only require a small cut in the skin to access a major blood vessel. These procedures can usually be done without general anesthesia and often result in shorter hospital stays and faster recovery times.
Percutaneous valve replacement can be a good option for patients who are at high risk for traditional surgical implantation. "Adult congenital heart patients have often already had multiple cardiac surgeries by the age of 25 or 30, which increases the risk for further [surgical] procedures quite significantly," said Dr. Mahadevan. Most commonly, these patients need replacement of their pulmonary valve – the valve that leads to the pulmonary artery, which carries blood to the lungs to receive oxygen.
"On the other hand, there are very elderly patients without congenital heart disease who need a mitral or aortic valve," said Dr. Mahadevan. "They may not have had previous cardiac surgeries, but they may have depleted lung function, abnormal kidney function or vascular disease and are at increased risk for surgery, so a transcatheter valve would be preferable."
Replacing Heart Valves
To implant a valve using a catheter, Dr. Mahadevan and his team make a small cut in the skin to access a blood vessel – usually the femoral vein or artery in the groin, the jugular vein in the neck, or the aorta, which a cardiac surgeon can access by making a chest incision. Dr. Mahadevan then inserts a flexible tube into this vessel and threads it into the heart. The team uses imaging tools to guide them, including X-ray or transesophageal echocardiography (TEE), in which an ultrasound probe is inserted down the throat and into the esophagus, which provides a good vantage point for gathering images of the heart.
Because these are not surgical procedures, interventional cardiologists cannot use scalpels to remove old valves. Instead, the replacement valve is designed to fit within the patient's own degenerated "native" valve or a surgically implanted valve which is no longer functioning properly. Using a small inflatable balloon, the existing valve is flattened against the sides of the valve opening, similar to the way plaque is flattened against the sides of a blood vessel during an angioplasty.
The replacement valve is then threaded through the catheter into the heart. (These devices include the Edwards SAPIEN XT transcatheter aortic heart valve, which was approved by the US Food and Drug Administration this past summer, and Medtronic's Melody® transcatheter pulmonary valve.) Similar to a stent, the replacement valve is folded into a slender cylinder until it reaches the target location, then fully expanded to fit within the valve opening.
During this process, Dr. Mahadevan "paces" the heart, using a temporary pacemaker to briefly induce an abnormal heart rhythm called ventricular tachycardia. This temporarily lowers the blood pressure in the heart while the replacement valve is positioned and expanded; otherwise, the force of the pumping blood is so strong that the device would be spit out of the valve opening before it has a chance to be opened. An experienced team can usually complete a successful valve procedure in about two-and-a-half hours, said Dr. Mahadevan.
Closing Holes in the Heart
He also uses transcatheter procedures to repair one of the most common heart defects – a hole in the septum, the wall that separates the right and left sides of the heart. Every baby is born with a small hole between the upper two chambers of the heart, which normally closes shortly after birth. When it fails to close, it results in a condition called patent foramen ovale (PFO). Atrial septal defects (ASDs) and ventricular septal defects (VSDs) are larger holes in the septum.
To patch these holes, Dr. Mahadevan can use a device such as the AMPLATZER™ septal occluder. It has a plug which fits into the hole, and discs which open on each side of the septum to seal off the two sides of the heart.
For most PFO and ASD closures, Dr. Mahadevan is experienced in using intracardiac echocardiography (ICE), inserting a small ultrasound probe into the heart to provide imaging guidance. Use of this imaging tool does not require general anesthesia, facilitating faster recovery after the procedure. Dr. Mahadevan was also the first interventional cardiologist in the UK to use three-dimensional intracardiac echocardiography to guide procedures.  
Building a World-Class Center
Dr. Mahadevan has used catheter-based procedures to implant at least 500 heart devices and nearly 200 heart valves. Although he specializes in treating adults with congenital heart defects, he also is well-versed in the full range of interventional procedures, including angiograms, angioplasties and stents.
"Teamwork makes us successful," said Dr. Mahadevan. "You need people who do these procedures on a regular basis, including clinicians, specialist nurses, the cath lab team, ward nurses – and you also need to work with interrelated specialties, like pediatrics, pulmonary hypertension, transplant, electrophysiology and cardiac surgery. Percutaneous valve implantation is still in its early stages, and I think it will revolutionize treatment. I don't think it will supplant surgery anytime soon, but it will complement it, because there is always going to be a group of patients who will be very high risk for surgery."
In addition to his clinical work, Dr. Mahadevan has a keen interest in research, particularly in the areas of pulmonary hypertension and ion channel changes in tetralogy of Fallot, a complex congenital heart condition.
Dr. Mahadevan was born in India and graduated from Stanley Medical College at the University of Madras in Chennai (formerly Madras). He completed his residency at Doncaster Royal Infirmary in the UK, followed by fellowships in cardiology research, interventional cardiology, adult congenital heart disease and intervention at Belfast City Hospital, Royal Victoria Hospital and Queens University in Belfast, Royal Brompton Hospital in London, and Toronto General Hospital in Canada. He served as a cardiologist at the Manchester Royal Infirmary from 2005 until his recruitment to UCSF this year.
Dr. Mahadevan is married to Kritika Mahadevan, a food scientist. They have two young sons, Manish and Harish, and are enjoying exploring their new home town. "The fog and the chilly wind are a bit reminiscent of England," said Dr. Mahadevan with a laugh.
Dr. Mahadevan is excited to join the team at UCSF. "Coming here offers a new challenge and opportunity, and a more academic environment," he said. "I hope to complement the existing programs in adult congenital cardiology and pulmonary hypertension. I want to set up a major transcatheter valve program, and make this a center for newer valve technologies. My hope is to make UCSF a world-class center for adult congenital heart disease treatment and intervention."
– Elizabeth Chur