Outpatient Services
Mission Bay Clinic
This is a full-service clinic for all aspects of cardiovascular disease, including vascular disease, adult congenital heart disease, genetic cardiac disease, arrhythmias, heart failure and heart valve disease.
In addition, it is the location of the Center for the Prevention of Heart and Vascular Disease, which evaluates and counsels patients on cardiovascular disease prevention. Also, the clinic houses a full diagnostic center, including exercise testing, echocardiography, pacemaker interrogation, ambulatory ECG monitoring and access to laboratory blood tests.
The UCSF Cardiovascular Care & Prevention Center is located on the UCSF campus at:
535 Mission Bay Blvd South
San Francisco, CA 94158
The Faculty Practice can be reached 8:30 a.m. to 5 p.m., Monday through Friday (except holidays) by calling (415) 353-2873
Parnassus Clinics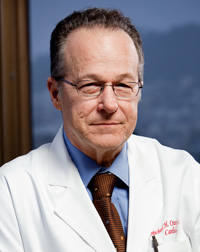 These clinics are on the main campus across from UCSF Medical Center, and focus on advanced cardiovascular care in electrophysiology/arrhythmias, heart failure/transplantation, interventional cardiology and vascular disease. Testing facilities for these clinics are located in the hospital across the street.
400 Parnassus Avenue, 5th floor
San Francisco, CA 94143
Satellite clinics
UCSF Cardiology Division operates satellite clinics in several locations in San Francisco and Marin County.
Inpatient Services
UCSF Medical Center
We offer a full range of cardiovascular disease evaluation and treatment for patients requiring hospitalization, including invasive procedures for arrhythmias, blood vessel disease and heart failure.
These services include ablation of arrhythmias, such as atrial fibrillation; coronary artery stenting, pacemaker and defibrillation placement; and heart support device placement. Also, our colleagues in surgery perform coronary bypass surgery, heart valve repair or replacement, heart transplantation and vascular surgery.